Wedding package
– Extraordinary Manor wedding –
* Aperitif: a glass of Champagne or sparkling wine, with a refill
* Three different canapés
* Three-course wedding dinner
* Coffee & thé
* Wedding cake
* Evening snack
* Waiting staff
* Space for dancing and bar service
* Beautiful table settings and tableware
* Two meetings with our wedding coordinator as well as 8 hours email and telephone communication
SEK 1,850 per person (excl. room and breakfast)
A wedding at Rånäs Slott usually follows the outline below:
* Check-in from 3 p.m.
* Wedding at the manor, in the park or in a nearby church
* Bridal toast on the terrace, overlooking Skedviken Lake
* Party menu served in the Galleriet dining room with paired drinks from our wine cellar
* Coffee, liqueurs and wedding cake in the manor drawing rooms on the first floor
* Bar service and dancing
* Evening snack
* Overnight stay
* Breakfast or brunch
Wine package:
The wine package includes one glass with the starter (with a refill), one glass for the main course (with a refill) and one glass of dessert wine.
Wine packages from 695 SEK per person
The manor:
The manor stays open until 1 a.m.
Hotel room check-in from 3 p.m.; check-out at 12 a.m.
Breakfast between 9 a.m. and 11 a.m.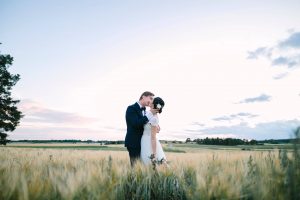 Weddings at Rånäs Slott:
Outdoor wedding setup with chairs: SEK 8,000. Reuterskiöld Hall setup inside the manor in case of bad weather.
Guest rooms:
We have 32 double rooms, 17 single rooms and a suite.
Wedding accommodation including brunch: SEK 1195 per person/night
Extra bed including brunch: SEK 795 per person/night
Bridal suite including brunch: SEK 1,750 per person/night
Exclusive access:
You will always have exclusive access to the manor and surrounding buildings during a wedding. We therefore require a minimum of 75 guests and 75 overnight guests, which forms the basis of our minimum charge. The minimum charge will be applied even if you have fewer than 75 guests and 75 overnight guests.
During our summerseason – you also have the oppurtunity to have exclusive access to the manor on Mondays with a minimum of 55 guests and 55 overnight guests, Thursdays – with a minimum of 65 guests and 65 overnight guests.
All prices include VAT and are valid until 2024.
Further details:
We have built up a wide network of contacts over many years and are happy to contact wedding photographers, florists for the bridal bouquet and extra decorations, DJs and other musicians. Most of the wedding pictures on this site were taken by Kicki Fotograf and 2Brides.
Booking:
Payment:
We require a 10% deposit of the total price of the package booked 30 days after booking. Bank account number: 5085-3068.
Cancellation:
The deposit will be retained for cancellations less than 90 days before the booked date. For cancellations less than two months before the booked date, Rånäs Slott will charge a cancellation fee of 75% of the price of the wedding package booked. For cancellations less than one month before the booked date, Rånäs Slott will charge 100% of the price of the booking.
The number of guests must be confirmed no later than four weeks before the arrival date.
Contact us
Our wedding coordinator, Pernilla Åkerberg is certified by the Bröllopsakademin (Wedding Academy). If you would like further ideas and guidance for your wedding, Pernilla will be happy to help you (SEK 450 per hour) brollop@ranasslott.se.